Peace is one of the categories that mankind has been considering since the beginning of creation, and has always been wishing to be in a calm condition and reconciliation; However, in the different ages, human being has suffered because of the lack of peace.
Today, with regard to the complexities of human life and the disruptions in political and social interactions, nations are increasingly aware of the importance of peace and coexistence. The importance of this item can be found in the works of scholars, philosophers and sociologists; as they have considered it in designing Utopia. Accordingly, it is possible to explain peace in different ways, due to cultural, religious, and social beliefs and ideas.
The International Center for Developing Peace, Culture and Rationality in order to promote peaceful coexistence, will hold the Third International Peace Studies Conference at Saturday, February 26, 2022 and intends to gather together scholars and researcher for having a better explanation of peace and reconciliation.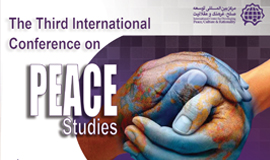 Important dates:
Full paper deadline: 9 February 2022
Conference day: 26 February 2022
Get newsletters of the conference
Conference registration and attendance fees
Publishing in "jurnal of Comparative studies of Human Rights" and "Journal of Peace and Rationality"
€؛ 100
Conference attendance fee
This fee includes conference day catering: conference day attendance, conference attendance certificate, two snack catering and conference day package lunch.
People who submitted the article: €؛ 100
Conference participants without paper €؛ 150
Conference registration fee
130 per student €؛
160 faculty members €؛
Others 200 €؛
Co-author 80 €؛
(Euro )
BENEFITS OF THE CONFERENCE ATTENDANCE
By attending at the conference you will obtain the following benefits

International Certificate of DNW

Article indexing by International Academic Centers
Meet Famous International Scholars and Researchers
Special Certificate of the conference