The Seventh Academic Meeting of the International Center for Developing  Peace, Culture and Rationality, titled "Principles of International Relations from the Point of View of Shiite jurisprudence- Fiqa" was held in Qom on Wednesday, March 11th.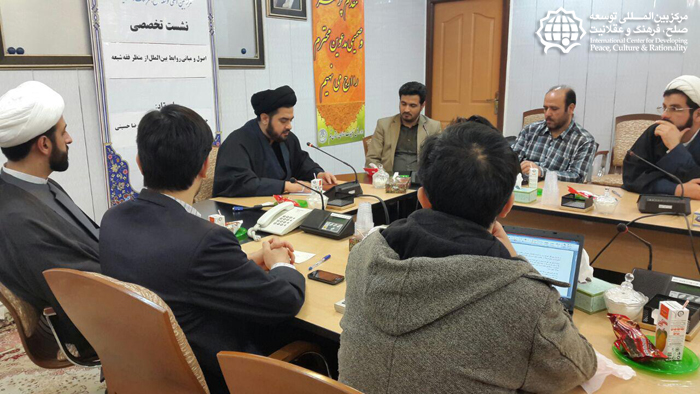 In this meeting, H.I. Seyyed Alireza Hosseini, professor of the university and religious school presented a history of the principles of international relations in Shia jurisprudence and stated: "One of the important discussions in Shi'ism is whether we have principles in international relations or not? There are some important questions such wether basic principle of Shi'ism is peace or war? And whether the basic principle is negotiating or guarding? He said if we want to answer these questions we should have a division of jurisprudence-fiqh.
He pointed out two branches of jurisprudence individual and social. He said in order to answer these questions we should have international point of view. Social jurisprudence will explain relations, in this case international relations. 
H.I. Hosseini, stated that the head of Shiite government is the Wali Faqih-jurisprudent  and the absolute  Wali Faqih -jurisprudent believe that the supreme leader never express  his own opinion as a absolute opinion in specialized matters. He govern the state by professional experts. This type of government is true example of Shiite belifefs. 
He continued: As an example in enforcing the law of  retaliation, we do not know how much harm has been inflicted on him. Forensic medicine find out just example of damage  and the jurisprudent can conform this example to the crime and judge. 
In the policy issues especially in international  affairs Wali Faqih  consults a number of experts, and they also present their scientific opinions without political tendency. And ultimately the Wali Faqih express his own opinion regarding experts' opinions.
At the end, he pointed out today , expediency is  a crucial issue  that the dignity of Islam and the country is followed by it.
The meeting ended with the questions at the meeting and the responses of H.I.  Hosseini.